Selling our custom logo product directly to marketplaces to boost their brand
Click the links above to see examples of custom trash receptacles and read customer testimonials
Our high-quality custom waste receptacles, custom recycling containers, and custom outdoor benches serve as essential site furnishings for functionality while enhancing your surrounding décor and boosting your brand. 
Witt Industries custom logo products are sold directly to the license owner of the brand. Contact us to understand your business objectives and how our product line can achieve those goals.
Witt Industries is a premier manufacturer of durable indoor and outdoor custom logo trash cans, custom recycling bins, and site furnishings made of high-grade quality materials. Our extensive product line offers a variety of options for nearly any venue and includes an array of classic, fabricated slat-steel receptacles, benches, and site furnishings.
Witt Industries' broad offering of indoor and outdoor custom recycling receptacles leads the way by answering customer demand for green waste alternatives. We are a dedicated green manufacturer, producing the highest quality receptacles, many of which are constructed of recycled materials.
Provide a high-resolution image of your logo to receive a no-obligation rendering of your custom trash cans, custom recycling bins, and/or custom outdoor benches.
The Witt Industries Advantage
Custom Trash Cans & Recycling Receptacles
Customizable:  We precision laser cut your logo, incorporate decals, and provide non-fading panel options to match your colors for a truly authentic product. Learn More.
Built to Last: We use heavy-duty 14-gauge steel, a durable powder coat finish or 304 stainless steel, and a protective coated base to provide superior longevity with ease of maintenance.
Complete Product Solution: Liners are included with your choice of three lid options. An anchor kit, lid kit, and leveling feet are provided for outdoor units. Available in 55, 46, 35, and 20-gallon capacities.

Order Quantities: No minimum requirements.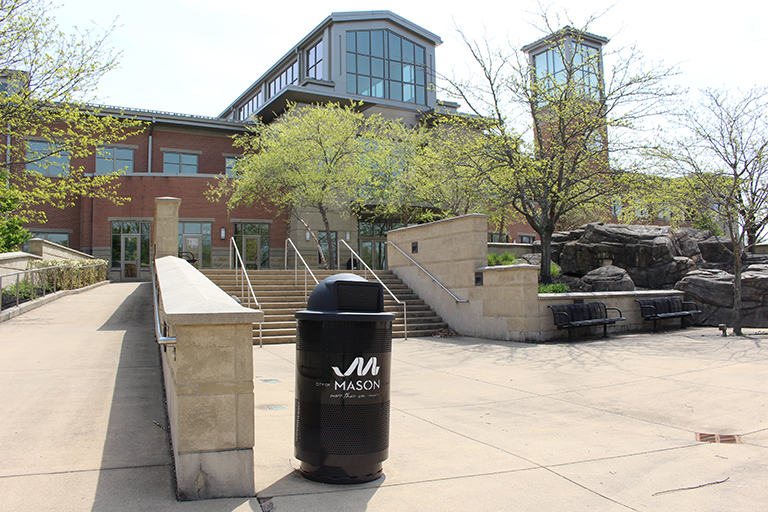 Products are not for individual purchase.  Sold directly to the owner of the brand.
Your brand is used to promote your unique identification to generate public recognition. Your logo is the quickest identifiable expression of your brand as the symbol of your city, team, company, organization, or school.
Witt Industries custom trash receptacles, custom recycling bins, and exclusive custom outdoor benches offer the ability to promote your brand during stakeholder interactions at your facilities. 
Witt custom logo products are perfect for stadiums, entertainment venues, universities, K-12 schools, office complexes, corporate headquarters, restaurants, retail stores, parks, airports, healthcare buildings, and municipalities.